There are several banks that have strong associations with the Military. For example USAA, Pentagon Federal Credit Union, and Navy Federal Credit Union.
Let's look at the best benefits of each one.
Best Military Banks & Financial Institutions
USAA Federal Savings Bank & USAA Insurance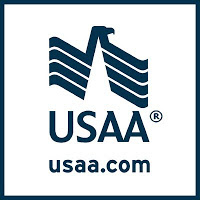 USAA has several great benefits. Some of my favorites include some of the lowest car insurance rates!
My wife and I have had one car for the last 2 years and our 6-month premium is usually around $180. That's only $30/month. Now that we just bought another car it doubles it to about $350/every 6 months
They gave us over $125 in discounts including payment history, length of membership, military service (see image below)
They are great with deployment, etc, and decreasing your rate so you are not paying for a car sitting in a garage also.
Another great feature is that USAA reimburses up to $15 in ATM fees each month.
Their credit cards give anywhere from 1-2% cashback. Occasionally they have offers where they will give an additional 5% back on gas, which adds to base earning so you get a 7% cashback at the gas pump!!
I do my investments through USAA also. Their mutual funds have an average expense ratio and it costs about $8 per trade
PenFed Credit Union
Pentagon Federal CU (PenFed) has become one of my favorite banks!
I joined about a year ago. It normally costs about $20 to join but military members can join for free!
I currently have two credit cards with PenFed and a car loan
I love my PenFed CC's because they give such great rewards. Here are the 2 cards that I have:
PenFed Premium Travel Rewards American Express Card
PenFed Platinum Rewards Visa Signature CardThe last reason why I love PenFed is how low their auto loan rates are. They have a flat 1.79% for new cars and 1.99% for used cars. It even gets as low as 0.79% when using their car buying service.
I took out a 3 year car loan for $7000. At the end of the loan i will have only paid back $7,225.40
I applied for a used car loan at 2 other banks including USAA and the lowest any of them offered me was 4.99%.
NavyFed – Navy Federal Credit Union
NavyFed is also one of the most popular military banking institutions. They have branches on or near many Navy bases and installations. Their rates are competitive in regard to bank fees, mortgages, and auto loans. They don't generally offer high interest rates on your savings accounts, but most brick and mortar banks don't. You usually need to go with an online bank for the highest interest rates.