There are several banks that have strong associations with the Military. For example USAA, Pentagon Federal Credit Union, and Navy Federal Credit Union
Lets look at the best benefits of each one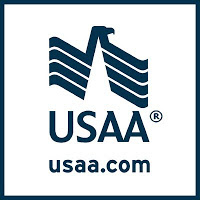 USAA has several great benefits. Some of my favorite include the lowest car insurance! My wife and I have had one car for the last 2 years and our 6 month premium is usually around $180. Thats only $30/month. Now that we just bought another car it doubles it to about $350/every 6 months
They gave us over $125 in discounts including payment history, length of membership, military service (see image below)
They are great with deployment, etc and decreasing your rate so you are not paying for a car sitting in a garage also.
Another great feature that USAA is up to $15 in ATM fees are reimbursed each month.
Their credit cards give anywhere from 1-2% cash back. Occasionally they have offers where they will give an additional 5% back on gas which adds ontop of base earning so you get a 7% cash back at the gas pump!!
I do my investments through USAA also. Their mutual funds have an average expense ratio and it costs about $8 per trade

Pentagon Federal CU (PenFed) has become one of my favorite banks!
I joined about a year ago. It normally costs about $20 to join but military can join for free!
I currently have two credit cards with PenFed and a car loan
I love my PenFed CC's because they give such great rewards. Here are the 2 cards that I have:
The Premium Travel Rewards AXP Card gives 5pts/$ on airfare and a $200 cash bonus sign up
The Platinum Rewards Visa gives 5% back on GAS, 3% back on GROCERIES
The last reason why I love PenFed is how low their auto loan rates are. They have a flat 1.79% for new cars and 1.99% for used cars. It even gets as low as 0.79% when using their car buying service.
I took out a 3 year car loan for $7000. At the end of the loan i will have only paid back $7,225.40
I applied for a used car loan at 2 other banks inlcluding USAA and the lowest any of them offered me was 4.99%.