Being a member of the military makes traveling so much easier.
We rated the 10 BEST perks of personal and official travel as a military member here:
1. Access to the USO's
USOs offer military families a place to relax in a private lounge where they can have access to free food, entertainment, places to rest and relax.  Here is an overview of some of the airport USOs we have visited.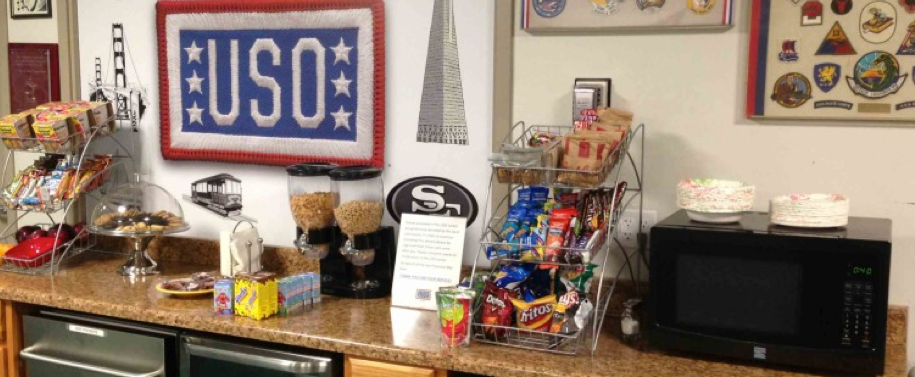 2. Many Airlines Offer Military Members FREE Checked Backs
Here is a brief summary below. Here are the full details of airlines that offer free checked bags for military members.
Alaska Airlines: 5 free checked bags
American Airlines: up to 5 free checked bags
Delta: 4 free bags
Frontier: Unlimited bags
Hawaiian Air: 4 free bags
Southwest: 3 free bags
United: 4 free checked bags
US Airways: 5 free checked bags
Many of these airlines have free bags for military dependents also. The amount of bags varies whether you are traveling on active duty orders or just on leisure time. For full details see our post here
3. Skip the Security Line!! – Free TSA Precheck
All military members are eligible for TSA Precheck expedited screening line where you don't have to remove your shoes, laptop, and liquids? To participate, enter your DOD number in the "Known Travel Member" field. For full details on TSA Precheck visit here
4. Early boarding
This is a perk that many airlines have. American Airlines lets military members board with first class for example. Southwest offers early boarding to military members in uniform. Delta and United also have early boarding for military.
5. Free entrance to United Club Lounges
We have a whole post dedicated to this topic here
6. Rental Car Discounts for Military Members
This can be a hit or miss. If you call over the phone most places will give you some kind of discount but it isn't always better than the discounts you may find on Hotwire or Expedia. Here is my experience getting a military discount on a rental car.
7. Discounted Lodging
Most hotels will give around a 15% discount for military members. Here is a list of links to all the hotel brands and their military discount web pages.
8. Discounted Airline Tickets
We just wrote about this last month. Almost all airlines have military discounts!!! The only thing is they don't like to advertise the prices online so you have to call them directly. For a list of the specific phone numbers, visit our list of airlines that offer military discounts.
9. Military Discounts in Specific Cities
We have a list with over 10 cities like Washington DC, San Antonio, , San Diego, Phoenix, El Paso, and some of the great military discounts to take advantage of while traveling.
10. Free Priority Pass Membership
American Express is kind enough to waive the annual fee for military members on its credit cards. It has several credit cards like the American Express Platinum Card that come with a free priority pass membership. This gets you into hundreds of lounges throughout the world. The card normally has a $450 annual fee but it is waived for military members who apply for SCRA benefits. To learn more click here
Hopefully, you were able to find out some new PERKS to take advantage of the next time you travel. Share this blog post with your military friends and family so they can take advantage also.
I recommend following the blog The Military Frequent Flyer for more military perks on travelin. He always has great tips and experiences.